Puff pastry aperitifs
Matching is not only with wines. Cavas also have their star moments and combinations. In addition, these types of sparkling wines are very well suited for multiple occasions, before, during and after meals.
When it comes to desserts, it is best to combine them with semi-sweet or sweet wines. However, if you prefer to uncork a bottle with savoury puff pastry aperitifs, then your best bet is a chilled Cava Bach Rosé. Discover it!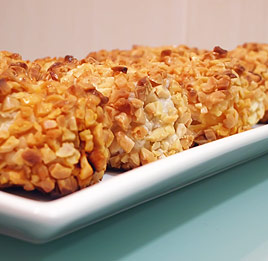 Puff pastry aperitifs recipe
FOR MATCHING WITH BACH ROSÉ
Ingredients for 4 people:
1 ready-made puff pastry dough
Cheese, York ham, spiced pork and lard spread, pâté, tuna....
Almonds
1 egg
Preparation:
Roll out the puff pastry dough and cut it into squares. Fill the dough with the chosen ingredients (cheese, ham, spiced pork and lard spread, pâté, tuna...). Spread egg over the pastry with a kitchen brush and top it up with an almond. Bake in the oven at a high temperature for 5 minutes.